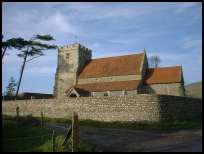 There is a record of Beadinghamme in 880AD and the Domesday book shows it as Bedingeham.

Beddingham in East Sussex lies on the Eastbourne to Lewes main road just outside Lewes.

Just to the north west of the village lies Mount Caburn at 480 ft high one of the higher landmarks in Sussex, on which was once an Iron Age settlement.

This rural village has been here since Saxon times with its church originally wooden, the Normans creating its modern construction in local flint from the Downs .

The area was settled in pre-roman times with many tumuli in the surrounding hills originating in the iron age .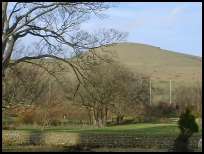 The village lies in the valley bottom beneath Mount Caburn which is one of the higher landmarks in Sussex . The whole area is one of the South Downs with its steep green hills and wide vistas and very low lying river valleys, and the area is very pretty however Beddingham in East Sussex lies on a roundabout on the A27 with its busy traffic.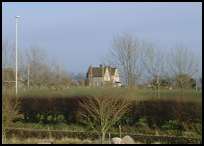 Beddingham in East Sussex has no services except for the church, and only a few farm buildings the nearest shopping centre is at Lewes about 2 miles north west through the Cuilfail tunnel.

As with the shops, all the nearest trains run from Lewes .
Beddingham is shown as the red symbol on the map.

Nearby Villages
(click on symbol to see the village page)

| | | | | | |
| --- | --- | --- | --- | --- | --- |
| Village= | | Town= | | Recorded in Domesday= | |

Alciston
(Fifty thousand tiles on the Barn)

4.05 miles
Alfriston
(Smuggling and Ghosts)

5.61 miles
Arlington
(Peaceful Saxon Village)

6.20 miles
Berwick
(Sharpen your arrows on the Church)

4.87 miles
Chalvington
(The miniature church)

4.81 miles
Chiddingly
(Walking on Cheese ??)

7.29 miles
Denton
(Earl Godwins Manor)

3.67 miles
Glynde
(Home of English Opera)
0.94 miles
Laughton
(Knight captures King of France)

4.77 miles
Lullington
(destroyed by Cromwell ??)

6.01 miles
Ringmer
(Poor Roads and riots)
2.68 miles
Ripe
(Earl Harolds estate)

4.19 miles
Selmeston
(Tomb to store the Contraband)

4.14 miles
Tarring Neville
(The Chest from the Spanish Armarda)
2.59 miles
Wilmington
(The Long Man)

6.63 miles
Firle
(Home of the Greengage)
1.66 miles