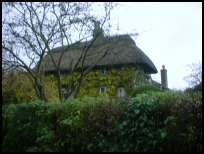 Berwick in East Sussex lies just off the A27 Eastbourne to Lewes road close to the Cuckmere valley just on the northern edge of the South Downs. The name comes from the Saxon Bere Wic which means barley farm.

The village has been in the same area from pre Christian times as a burial ground has been found south of the church. The church it is believed like many others in the area was originally a wooden Saxon church built on an ancient barrow . The Normans started building a flint structure, which was expanded in the 1100's into the present structure.

In the mid 1300's King Edward III issued a proclamation that all men must practice archery on Sunday, and at Berwick it was normal to sharpen the points of their arrows on the church tower before going to practice. The marks are still on the tower near the font. Many of the bowmen who fought at the battles of Crecy, Poitiers and Agincourt came from the area, probably following Sir John Pelham a knight from nearby Laughton .

From the late 1600's the church was left to become derelict and in 1837 the new curate reported that the tower had been struck by lightning during 1774, and the spire destroyed, and the rest of the church was left in a sorry state. The church was restored and re-opened by the Bishop in 1857.

Sir Horatio Bottomley the local Member of Parliament who lived in Upper Dicker was responsible for the building of Berwick station to provide him with easy access to the capital, this station was originally known as Dicker Halt.

During the Second World War bombs dropped nearby probably by German pilots jettisoning their loads when attacked by British planes, destroyed much of window glass, and a doodlebug ( Flying Bomb ) exploded damaging the roof.

The Bishop decided that rather than replace the windows it would be nicer to paint the inside of the church with murals, these are still in existance and make a very attractive sight, well worth visiting.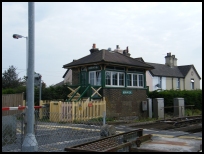 The village lies just off the main A27 on the edge of the South Downs the views of the downs to the south are spectacular on a warm summers day.

The church is a major tourist attraction due to the paintings and many ramblers walk to Berwick in East Sussex from the historic village of Alfriston a mile or so south.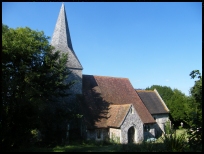 Berwick in East Sussex is a very small village with only a few houses and a public house.

The nearest services lie at Lewes about 6 miles north east which has a wide range of shops.

The village has a station on the Eastbourne to Lewes train line which provides a regular service along the coast.
Berwick is shown as the red symbol on the map.

Nearby Villages
(click on symbol to see the village page)

| | | | | | |
| --- | --- | --- | --- | --- | --- |
| Village= | | Town= | | Recorded in Domesday= | |

Alciston
(Fifty thousand tiles on the Barn)

0.82 miles
Alfriston
(Smuggling and Ghosts)

1.14 miles
Arlington
(Peaceful Saxon Village)

2.36 miles
Beddingham
(At the base of Mount Caburn)

4.87 miles
Bishopstone
(Largest Tide-Mill in Sussex)

3.64 miles
Chalvington
(The miniature church)

2.86 miles
Denton
(Earl Godwins Manor)

4.31 miles
East Blatchington
(Mutiny and the Edge of Space)
3.88 miles
Exceat
(Alfred the Great's Naval Base?)

3.36 miles
Folkington
(Teasles and Badgers)

2.61 miles
Glynde
(Home of English Opera)
4.51 miles
Hailsham
(Ropes and Napoleon)

5.34 miles
Jevington
(Smugglers and Churchill Tanks)

3.57 miles
Litlington
(Secret marriage of George IV)

2.31 miles
Lullington
(destroyed by Cromwell ??)

1.52 miles
Polegate
(Fine old Tower Mill)
4.04 miles
Ripe
(Earl Harolds estate)

3.26 miles
Seaford
(The cormorants or shags)
4.17 miles
Selmeston
(Tomb to store the Contraband)

1.41 miles
Tarring Neville
(The Chest from the Spanish Armarda)
4.76 miles
Wilmington
(The Long Man)

1.79 miles
Firle
(Home of the Greengage)
3.21 miles