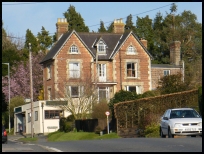 The village of Buxted in East Sussex lies on the A272 Heathfield to Uckfield road. The name of the village derives from Bloc Stede meaning the stand of beeches(A beech wood) In 1331 the export of unwashed wool was prohibited by King Edward III. He encouraged weavers from Flanders to settle in England. They brought their weaving and dying techniques to England, and at Buxted , they produced silk materials.

The cannon making industry in the Weald started at a furnace on the stream at Hoggets Farm lying to the north between Buxted and Hadlow Down .

The first cannon cast in east sussex was in 1543 at the furnace by Ralf Hogge(Huggett), and is immortalised by a small rhyme.

Master Huggett and his man John
they did cast the first cannon.

John was in fact a French cannon making expert whose name was Peter Baude and it is believed that his family were buried at Wartling on the Pevensey Marshes.

The area became rich from the iron industry, and the village benefited from supplying the forges and furnaces in the area.

On June 22nd 1557 during the reign of Queen Mary, Richard Woodman from Warbleton was burned to death with nine other martyrs in front of the Star Inn at Lewes , Richard was born in Buxted .

When the iron industry in the south east collapsed in the early 1800's the village reverted to its rural roots.

In 1831 the Swing Riots the last peasant revolt in the UK, created by low wages and poor conditions, erupted in Buxted but soon ended.

In the early 1800's Lord Liverpool, the Prime Minister, purchased Buxted Park, and wished to make the park bigger to enclose the village, and then remove it. His plans worked, as he didn't repair any of the houses in the village, and eventually the villagers left, and all the buildings except for the church of St Margaret were demolished by 1836. The villagers moved about 1 mile away to the current location. Queen Victoria visited Buxted Park in 1845 together with her family.

With the coming of the London to Lewes railway in the late 1800's , many of the farms in the area converted to the production of hops.

The current church of St Marys was built in the late 1800's and opened in October 1884, it is of unusual flint construction, more in line with the churches of the South Downs rather than the sandstone churches nearby.