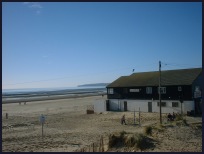 Camber in East Sussex is a small holiday village lying on the western edge of the Romney Marsh .

It lies between Rye and Lydd on the coast road. The village lies on what once was an island which had its main habitation at Lydd, Camber was then a spit of land extending towards Rye . Its name is derived from La Chambre , which described the protected harbour which lay inland , this changed to the Camera then the Camber .

In 1539 the harbour was looked on as important by King Henry VIII and the small defensive fort of Camber Castle was expanded to provide cover to the harbour in the Camber(Chambre) between present Camber , East Guldeford , Rye and Winchelsea. The fort became obsolete by 1637 as the Camber had silted so badly. Camber was known as a good place for the smugglers and goods were landed at Jew's Gut (Jury Gut) just to the south of the village and on Camber beach the dunes of which provided cover for those taking part. The Excise built a Watch House in the early 1800's which is now adjacent to the Lydd Ranges at Jew's Gut.

In February 1821 the Battle of Brookland took place between the Customs and Excise men and the Aldington Gang of smugglers. The smugglers had sent 250 men down to the coast between Camber and Dungeness . The party was seen by the Watch House at Camber and a fight took place over Walland Marsh, the outcome was that one of the leaders of the gang Cephas Quested was captured. The injured were treated by Dr Ralph Hougham who lived in Brookland at Pear Tree House. During the Second World War , the village was evacuated to allow testing of new tanks and weapons at Lydd Ranges.

The village nowadays is a holiday village with camps and caravans available for traditional English seaside holidays. The sands make it safe for children, and sand yachting takes place at low tide.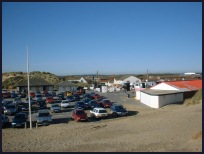 The beach is wonderful with high sand dunes, and sand which extends for about 1/2 mile into the sea at low tide. The Sandstone Cliffs at Pett and Fairlight glow red in the distance to the west on a summers morning.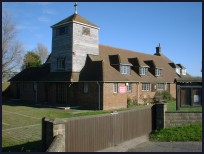 Camber in East Sussex is well served with local services, however they are seasonal as is the main holiday business.

Rye is the nearest major shopping town , providing a wide range of services, including main line train services to Ashford and Hastings .
Camber is shown as the red symbol on the map.

Nearby Villages
(click on symbol to see the village page)

| | | | | | |
| --- | --- | --- | --- | --- | --- |
| Village= | | Town= | | Recorded in Domesday= | |

Broomhill
(Swept away by the Storm)
0.89 miles
East Guldeford
(Barn-like Church)
2.34 miles
Icklesham
(Paul McCartney's Recording Studio)
5.58 miles
Iden
(Sheriff of Kent and Jack Cade)

4.28 miles
Lydd
(The Cathedral of the Marsh)
4.97 miles
New Romney
(Cinque Port and Storm)
7.15 miles
Old Romney
(Sheep and Wool Smuggling)
5.76 miles
Old Winchelsea
(Abandoned after the Great Storm)
3.17 miles
Peasmarsh
(Black Death moves village)
5.89 miles
Pett
(End of the Royal Military Canal)
6.44 miles
Playden
(Saltcote and fish)

3.29 miles
Rye
(On the Island)

2.70 miles
Rye Harbour
(Nature Reserve and unspoilt beaches)

1.46 miles
Udimore
(Angels move the Church)

6.39 miles
Winchelsea
(Inland Cinque Port !!)
3.84 miles
Winchelsea Beach
(Holidaymakers and Henry VIIIs Fort)
3.45 miles