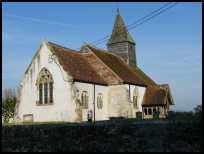 The village of Chalvington in East Sussex once known as Calvintone or Caveltone lies between the A27 Eastbourne to Lewes road and the A22 Hailsham to Uckfield main roads, in a quiet rural backwater.

The parish existed in 1086 and is mentioned in the Domesday Book. The church is not mentioned until a tax record from Pope Nicholas IV in 1291.

The church is tiny and very unusual being made of flints from the local South Downs, and looks like a miniature of the other churches in the area the church tower is wooden, and leans slightly due to the October hurricane of 1987.

The church was felt to have been dedicated to Thomas a Beckett because of a stained glass light portraying the Saint is set in one of the windows.

Legend has it that during medieval times, the Lord of the Manor only allowed his serfs to leave or enter if they paid a toll, this imprisoned his serfs and kept out unwanted visitors.

The church has on one side of the altar the memorial to the daughter of Lord Heathfield , General Sir George Augustus Elliot, the Govenor of Gibraltar, who successfully defended 'the Rock' against the combined French and Spanish forces between 1779 and 1783.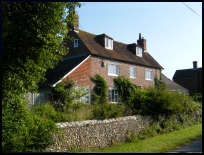 The most attractive views are those from the church across the flat lands towards the south downs near Wilmington .

The small church is very unusual, and is worth visiting if you are in the area.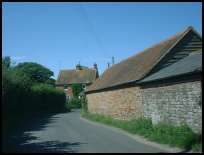 The village consists of a few farms and houses therefore has no local services.

The nearest shopping centre is at Hailsham a few miles to the east, with the large shopping centres in Eastbourne to the south east.

The nearest trains run from Polegate a few miles east.
Chalvington is shown as the red symbol on the map.

Nearby Villages
(click on symbol to see the village page)

| | | | | | |
| --- | --- | --- | --- | --- | --- |
| Village= | | Town= | | Recorded in Domesday= | |

Alciston
(Fifty thousand tiles on the Barn)

2.65 miles
Alfriston
(Smuggling and Ghosts)

3.96 miles
Arlington
(Peaceful Saxon Village)

1.93 miles
Barcombe
(Village in three places)

7.07 miles
Beddingham
(At the base of Mount Caburn)

4.81 miles
Berwick
(Sharpen your arrows on the Church)

2.86 miles
Chiddingly
(Walking on Cheese ??)

3.31 miles
Folkington
(Teasles and Badgers)

4.14 miles
Glynde
(Home of English Opera)
4.01 miles
Hailsham
(Ropes and Napoleon)

4.18 miles
Hellingly
(Only remaining Ciric in Sussex)
4.16 miles
Laughton
(Knight captures King of France)

2.58 miles
Polegate
(Fine old Tower Mill)
4.66 miles
Ringmer
(Poor Roads and riots)
5.00 miles
Ripe
(Earl Harolds estate)

0.82 miles
Selmeston
(Tomb to store the Contraband)

1.61 miles
Tarring Neville
(The Chest from the Spanish Armarda)
6.07 miles
Wilmington
(The Long Man)

3.54 miles
Firle
(Home of the Greengage)
3.47 miles