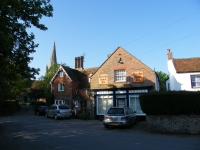 Chiddingly in East Sussex lies in a very quiet part of rural sussex. It is quite hard to find, as it is made up of four smaller settlements. The area around the church is felt to be the centre of the village.

The derivation of the name is felt to be from Cetelingei(recorded in the Domesday book) meaning 'the clearing in the forest of Citta's people'. The original was probably Cittaingleigh (see our Anglo Saxon history page).

The church was started in the late 1000's after the Norman Conquest and the building continued into early 1300's when the tower was erected. The church is one of those in the area to wear the Pelham Buckle insignia. This it was said is the emblem of the Pelham family, and was a battle honour granted to Sir John Pelham who was one of the knights who captured the King of France at the Battle of Poitiers in 1356 . The French family set up an iron furnace and hammer in the north of the Parish during the 1540's.

Inside the church is an enormous alabaster memorial to the Jefferay family from the late 1500's. Sir John Jefferay was the Chief Baron of the Exchequer in the reign of Queen Elizabeth I , who died May 23rd 1578. An old local legend is that the family were too proud to touch the ground with their feet, and walked to church stepping on drum shaped cheeses, which are represented by the shapes under the feet of the statues. In the church yard is another example of the fine work of Jonathan Harmer from nearby Heathfield whose terracotta embossed graves were in great demand in the early 1800's.

The 1830's brought rural unrest with the 'Captain Swing Riots' breaking out in Sussex and East Anglia. Machinery was destroyed, and other damage was done to farms and churches in the area. Hellingly , Ringmer and Horsham also suffered in damage in these riots. The riots continued for two years, and resulted in over 400 people being transported, and 19 hanged.

During late 1944 a V1 flying bomb exploded near the church causing minor damage.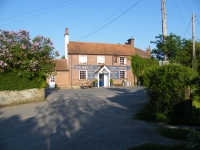 The church is visible from all around, as it lies on a small hill in the middle of the landscape.

To the south, the downs at Wilmington and the Long Man are visible most of the time.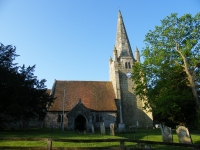 Chiddingly in East Sussex has very few services, but is a very attractive area.

The nearest shopping centre is at Hailsham about 5 miles to the South East.

For a very large shopping centre you will need to go to Eastbourne about 10 miles south. The county town of Lewes lies about 8 miles to the west, and has a wide range of smaller shops.

Train services can be caught at Polegate for the coastal line or Lewes for main line services to london.
Chiddingly is shown as the red symbol on the map.

Nearby Villages
(click on symbol to see the village page)

| | | | | | |
| --- | --- | --- | --- | --- | --- |
| Village= | | Town= | | Recorded in Domesday= | |

Beddingham
(At the base of Mount Caburn)

7.29 miles
Blackboys
(Charcoal and Soot)
4.19 miles
Bodle Street
(White Horse on the roof)
6.47 miles
Chalvington
(The miniature church)

3.31 miles
East Hoathly
(Another Sussex Cannibal?)
1.84 miles
Framfield
(380 years without a church tower)
4.95 miles
Glynde
(Home of English Opera)
6.36 miles
Hailsham
(Ropes and Napoleon)

3.96 miles
Halland
(Ancient Slaughter)
3.02 miles
Hellingly
(Only remaining Ciric in Sussex)
2.61 miles
Herstmonceux
(Castle and Observatory)

5.71 miles
Horam
(Which Station do we get off at ?)
2.80 miles
Isfield
(Simon de Montfort and the Lavender Line)
6.01 miles
Laughton
(Knight captures King of France)

2.72 miles
Punnetts Town
(The Windmill on the Hill)
6.60 miles
Ringmer
(Poor Roads and riots)
6.24 miles
Ripe
(Earl Harolds estate)

3.39 miles
Rushlake Green
(Open Village and Nuclear Bunker)
5.81 miles
Vines Cross
(Cannons and Doodlebugs)
3.77 miles
Waldron
(Fullers Earth)

3.17 miles
Warbleton
(The Iron Man)

4.71 miles
Windmill Hill
(Largest Post Mill in Sussex)
6.59 miles