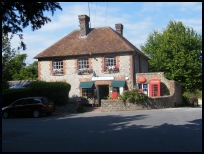 Firle in East Sussex or more correctly West Firle lies just off the main A27 Eastbourne to Lewes road.

It is mentioned as part of the Abbey of Wilton in the reign of Edward the Confessor (1042 - 1066) this manor was of great value, and in 1066 after the conquest the manor was given to the Count de Mortain who had control of the castle at Pevensey .

The ownership of the manor was held by the Lyvett family from the early 1300's until 1440 when the land was passed to the bolney family, whose daughter Agnes married William Gage and in turn the land passed to the Gage family.

Their son Sir John Gage took over some more of the nearby manors when his wife's father Sir Thomas St Clere died in 1446.

The family continued in the local manors until 1479 when the second Sir John Gage was born, who was made a ward of the Duke of Buckingham when his father died in 1497.

This Sir John was brought up for the court, and in 1513 accompanied Henry VIII on his expedition to France.

Because of his prowess in Battle he was appointed Vice-Chamberlain to the King. Sir John built much of the Tudor features of Firle Place.

Sir John's son Edward became the Sheriff of Sussex, and in 1556 had the dubious honour of supervising the burning at the stake of the Lewes martyrs .

Another famous Gage was General Sir Thomas Gage who was the commander who lost Bunkers Hill to the Americans.

Finally the story of Firle and that of the Gages would not be complete without an account of the greengage.

Thomas Gage who was a botanist and traveller introduced a small green plum like fruit to England, which he first grew at Firle Place , the green fruit was named the greengage in Thomas honour. This village is associated with the Sussex Bonfire Societies , who provide noisy processions, unbelievable outfits and fantastic firework displays throughout the month of November - a spectacle not to be missed.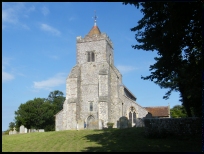 Firle in East Sussex is at the base of the South Downs, so the views are quite pretty, the village high street winds towards the main A27, but nowadays it is full with parked cars.

Firle beacon lies behind the village and at 718ft is one of the highest peaks in the area, with many walks and rambles.

From the A27 looking north west can be seen Mount Caburn lying outside Glynde .

Firle Place is a good place to visit with its history and architecture.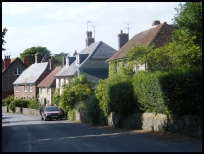 Firle in East Sussex is a small village with a few local businesses.

The nearest town is Lewes about 4 miles to the north east, with its shopping centre and supermarkets.

The nearest trains can be caught from Glynde about 1 and 1/2 miles to the north.
Firle is shown as the red symbol on the map.

Nearby Villages
(click on symbol to see the village page)

| | | | | | |
| --- | --- | --- | --- | --- | --- |
| Village= | | Town= | | Recorded in Domesday= | |

Alciston
(Fifty thousand tiles on the Barn)

2.39 miles
Alfriston
(Smuggling and Ghosts)

4.01 miles
Arlington
(Peaceful Saxon Village)

4.63 miles
Beddingham
(At the base of Mount Caburn)

1.66 miles
Berwick
(Sharpen your arrows on the Church)

3.21 miles
Bishopstone
(Largest Tide-Mill in Sussex)

3.84 miles
Chalvington
(The miniature church)

3.47 miles
Denton
(Earl Godwins Manor)

3.27 miles
Folkington
(Teasles and Badgers)

5.79 miles
Glynde
(Home of English Opera)
1.41 miles
Jevington
(Smugglers and Churchill Tanks)

6.76 miles
Laughton
(Knight captures King of France)

4.24 miles
Litlington
(Secret marriage of George IV)

4.88 miles
Lullington
(destroyed by Cromwell ??)

4.42 miles
Ringmer
(Poor Roads and riots)
3.57 miles
Ripe
(Earl Harolds estate)

3.04 miles
Selmeston
(Tomb to store the Contraband)

2.53 miles
Tarring Neville
(The Chest from the Spanish Armarda)
2.72 miles
Wilmington
(The Long Man)

4.97 miles