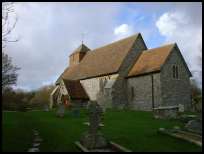 Friston in East Sussex lies on top of the Downs on the Seaford to Eastbourne main tourist route. During 1290 one of the villagers a Simon Payn and his wife Emma were forced to retreat to Bayham Abbey near Bells Yew Green , where the Abbot accepted them 'as long as they shall live'. We don't know why they needed to escape into the monastry perhaps they had money?? The 1300's brought the constant threat of French Raids, which destroyed the crops and killed the locals.

Three members of the Selwyn family supported Jack Cade in the uprising of 1450 .

The old house of Crowlink was known in the 1800's for its cellars containing smuggled gin, this beverage was known to have been of high quality and hence 'Genuine Crowlink Gin' became an expensive commodity. The goods were landed a nearby cove which has now been eroded away.

In modern times Crowlink became the home of E(dith) Nesbitt, who wrote 'The Railway Children' she is buried at St Mary in the Marsh in the middle of the Romney Marsh .

At the top of the hill lies the church, and about 1/2 mile away towards Jevington is the old Water Tower, which although stark can be seen for miles around and is most unusual.

The churchyard contains an unusual Tapsell Gate , produced by a carpenter from Mountfield in the mid 1700's. It rotates on a post, in a similar way to the design of a Post Mill .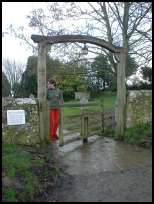 Friston in East Sussex lies on top of the downs, and from the Jevington road can be seen across the Seven Sisters country park the port of Newhaven with its ships.

All around lies the rolling Downs and their beautiful scenery.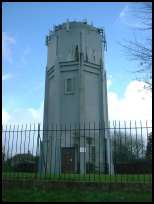 Friston in East Sussex is a small village with few services , the nearest shops are at East Dean about 1/2 mile to the east. The nearest major shops are at Eastbourne which lies to the east about 6 miles, main line trains along the coast can be caught from there.
Friston is shown as the red symbol on the map.

Nearby Villages
(click on symbol to see the village page)

| | | | | | |
| --- | --- | --- | --- | --- | --- |
| Village= | | Town= | | Recorded in Domesday= | |

Alfriston
(Smuggling and Ghosts)

3.68 miles
Bishopstone
(Largest Tide-Mill in Sussex)

5.38 miles
Denton
(Earl Godwins Manor)

6.82 miles
East Blatchington
(Mutiny and the Edge of Space)
4.69 miles
East Dean
(Fishing and Wrecking)
0.48 miles
Exceat
(Alfred the Great's Naval Base?)

2.42 miles
Folkington
(Teasles and Badgers)

3.46 miles
Jevington
(Smugglers and Churchill Tanks)

1.96 miles
Litlington
(Secret marriage of George IV)

2.78 miles
Lullington
(destroyed by Cromwell ??)

3.26 miles
Pevensey
(Ancient Roman Fortification)

7.14 miles
Pevensey Bay
(Fishing and Martello Towers)

7.13 miles
Seaford
(The cormorants or shags)
4.57 miles
Westham
(Enclosure for the Castle)
6.36 miles
Wilmington
(The Long Man)

3.77 miles