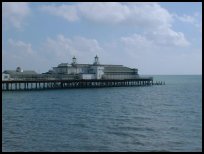 The Western end of the seafront is at Bulverhythe where the races were started in 1823.

The first railway to the area was arrived in 1846 and was built from Lewes to St Leonards. A second line opened in 1851 from Ashford via Rye to Hastings across the Romney Marshes . Finally in 1852 the London to Hastings line via Battle was opened, this line together with two tunnels linking St Leonards to Hastings provided the current railway infrastructure.

This brought an influx of tourists from the cities to Hastings , which prompted the building of St Leonards to house the visitors.

Further towards the East Cliff is Hastings Pier 910ft long and built on a frame of cast iron. Designed by the great british pier designer Eugenius Birch (1818-1884) the pier was opened to the public on 5th August 1892 by Lord and Lady Brassey , sadly now the pier is unsafe to go on.

The White Rock area was until 1834, a headland that protected the town from the sea this was demolished to allow a road to be built along the coast to join Hastings with the wealthier St Leonards, and later allow the construction of the promenade.

The Modern town can be seen from the seafront, then the West Hill with the Norman Castle, and as we head further East , the Stade and its modern amusements, the Hastings Old Town and finally the East Cliff .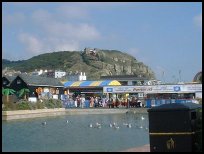 Hastings Seafront is an exceptional place to view Hastings, you can walk from Bulverhythe in the West to the East Cliff a distance of about 2 miles along the promenade .

The Victorian style of St Leonards and the pier whicjh opened opened 5th August 1872, H Hastings Castle on the West Hill , Hastings Old Town and the East Cliff can all be viewed while walking along the promenade.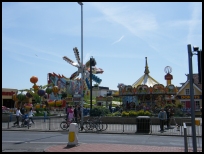 There are a number of shops and eating establishments along this stretch of the coast.
Hastings Sea Front is shown as the red symbol on the map.

Nearby Villages
(click on symbol to see the village page)

| | | | | | |
| --- | --- | --- | --- | --- | --- |
| Village= | | Town= | | Recorded in Domesday= | |

Catsfield
(Iron, Railways and Clocks)

5.14 miles
Crowhurst
(Village devastated by the Normans)

2.86 miles
Fairlight
(Firehills and Views)

5.42 miles
Guestling
(Changing guards at Buckingham Palace)

5.29 miles
Hastings Bulverhythe
(Landing place of the citizens)
0.77 miles
Hastings East Cliff
(Beautiful Views and peaceful Walks)
3.40 miles
Hastings Old Town
(The ancient Cinque Port)
2.21 miles
Hastings Ore
(Iron and the Turnpike)
3.19 miles
St Leonards on Sea
(an Edwardian family's gentile resort)
0.56 miles
Hooe
(The Haunt of Smugglers)

6.16 miles
Ninfield
(Last of the Iron Stocks)

5.63 miles
Normans Bay
(Last Invasion in 1066)
6.71 miles
Pett
(End of the Royal Military Canal)
6.16 miles
Westfield
(Bonfire Boys under suspicion)

4.16 miles