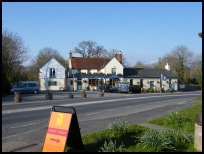 Laughton in East Sussex lies just off the main A22 Eastbourne to London road, on the B2124 Hailsham to Ringmer road. Stone implements have been found nearby, and the Romans built a villa on land towards Ripe , probably for farming as the land is very fertile lying as it does on a tributary of the river Ouse .

Until the Norman conquest in 1066 the area was owned by Earl Godwin, the father of Harold II the last Saxon King of England. The ownership was passed to Aquila family who founded Michelham Priory and who started to build the church in 1229.

The Black Death appears to have effected the village as the church lies just under a mile from the village centre.

In 1356 at the Battle of Poitiers a local knight Sir John Pelham together with Sir Roger De La Warr captured Jean the King of France, because of this Sir John was given the Kings belt buckle as a badge of honour.

This badge can be seen in many churches in the area showing the influence and power of the Pelham family. The Pelham family bought Laughton Place, an old fortified manor in 1466, this was rebuilt in 1534 by William Pelham . The Pelhams built a new house in Halland in the 1600's and moved there, but continued to be Lords of the manor.

The area was once a major brick producer with four brickworks nearby. The bricks were used to build Laughton Place , with production continuing until the 1930's.

During the Second World War the village was hit by a doodlebug ( Flying Bomb ) and unusually for the villages in the area four people were killed.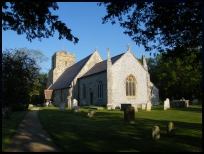 Laughton in East Sussex is on a slight rise in the flatlands between the South Downs and the Ashdown Forest. It has views south to the Downs which can be spectacular on a late summer afternoon.

Many of the houses in the village are old and attractive.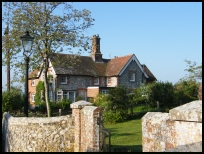 Laughton in East Sussex has a few local services as you would expect from a small village.

The nearest shopping centres are at Hailsham about 6 miles to the East or Lewes about 6 miles West.

The nearest train service runs from Lewes with a regular service to London.
Laughton is shown as the red symbol on the map.

Nearby Villages
(click on symbol to see the village page)

| | | | | | |
| --- | --- | --- | --- | --- | --- |
| Village= | | Town= | | Recorded in Domesday= | |

Arlington
(Peaceful Saxon Village)

4.42 miles
Barcombe
(Village in three places)

5.19 miles
Beddingham
(At the base of Mount Caburn)

4.77 miles
Chalvington
(The miniature church)

2.58 miles
Chiddingly
(Walking on Cheese ??)

2.72 miles
East Hoathly
(Another Sussex Cannibal?)
2.34 miles
Glynde
(Home of English Opera)
3.84 miles
Hailsham
(Ropes and Napoleon)

5.79 miles
Halland
(Ancient Slaughter)
2.16 miles
Hellingly
(Only remaining Ciric in Sussex)
4.96 miles
Horam
(Which Station do we get off at ?)
5.35 miles
Isfield
(Simon de Montfort and the Lavender Line)
3.96 miles
Ringmer
(Poor Roads and riots)
3.53 miles
Ripe
(Earl Harolds estate)

1.97 miles
Selmeston
(Tomb to store the Contraband)

3.82 miles
Vines Cross
(Cannons and Doodlebugs)
6.38 miles
Waldron
(Fullers Earth)

4.83 miles
Warbleton
(The Iron Man)

7.34 miles
Firle
(Home of the Greengage)
4.24 miles