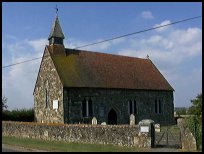 Reading Street And Ebony in Kent lie on the B2080 Appledore to Tenterden road.

Reading Street is the village on the spit of land to the north of Ebony .

Ebony was the old name for the bank of land now called Chapel Bank between Reading Street and the Isle of Oxney . During Saxon times it was an island with the Rother and sea surrounding it, known as Ebon Ie (Ebon's Island) and had a church and a priory on it. The road to the Isle of Oxney would have come down the hill from Tenterden , a ferry would have gone over to Ebony then another would have gone from the island to the Isle of Oxney . The church was hit by lightning during Elizabeth I's reign and destroyed. Subsequently a chapel was built hence the current name, although this has now gone.

Believe it or not, Reading Street and Ebony used to provide workers for the flourishing port and a centre for ship-building at Smallhythe ! Timber from the Wealden Forests was collected in Tenterden , then sent to Smallhythe for the building of ships. The River Rother used to flow past Reading Street to the sea and was of sufficient width and depth to accommodate the main warships of the period. The shipyards became famous from the 14th to the middle 16th century. One of Henry VIII's warships 'The Grand Masters' was built in the Smallhythe , and in 1537 Henry VIII visited the construction site to view the building of this great vessel. It would have been a magnificent sight being towed down the river past Reading Street and Ebony to the sea at Rye .

Nowadays Ebony only has sheep on it, the Rother flows south of the Isle of Oxney and is very small and Reading Street has a small church a public house and a garden centre, so the area has seen major changes.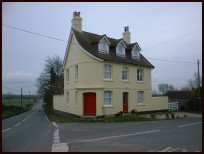 Reading Street lies on a promentory overlooking the Romney Marsh all around lies the flat lands of the Rother Levels , and the area is quiet and peaceful.

If you head towards the Isle of Oxney the area gets quieter and more peaceful. Imagine if you can the construction of huge sailing warships in Henry VIII's time, on the Rother where now is farmland.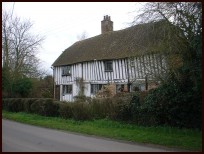 Reading Street is a very small village with a church, a garden centre and a public house to provide services.

Tenterden provides the main shopping area about 4 miles to the north.

Trains can be caught at Appledore station about 6 miles south, these are on the Hastings to Ashford service across the Romney Marsh .
Reading Street And Ebony is shown as the red symbol on the map.

Nearby Villages
(click on symbol to see the village page)
| | | | | | |
| --- | --- | --- | --- | --- | --- |
| Village= | | Town= | | Recorded in Domesday= | |