Clayton in East Sussex is an old Anglo Saxon settlement which was probably a very early settlement of the people of Aelle the first King of Sussex. It lies quite close to Dichling which would have been located nearer the Downs when first settled.

The area has good clay deposits, and was probably a center for pottery making.

As time went by the village became a farming village.

The church has some very fine wall murals, which originate from the mid 12th Century. The murals were discovered during repair work in 1893 and it is felt likely that the monks from St Pancras Priory at Lewes were the artists The first reference to windmills in the area are from about 1780 with the present Jill built in the 1820's at Brighton was moved to its present location not long after. Jack was built about 1866 and the two windmills operated together until 1906 when they were abandoned.

In 1910 Jack was leased for the sum of £10 per annum to Minna Spencer Cowper Coles Anson and her husband a naval officer, Her father, Captain Cowper Coles, evolved the idea of equipping battleships with rotating gun turrets, which were based on the design for the cap of the windmill .

Clayton Tunnel is the longest tunnel on the London to Brighton railway line which was built in the 1840's costing £90,000. The farmer who owned the land would not allow access to the tunnel unless its entrance was built with a castellated entrance .

In 1861 there was a collision in the Tunnel which destroyed two trains killing 25 people and injuring 176 others, it was to become known as the Clayton Tunnel rail crash.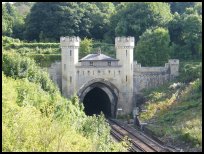 Clayton in East Sussex has some magnificent views across the Weald from the top of the Downs where the Jack and Jill Windmills are located.

In the small village, the Saxon church is very pretty and the castellated tunnel entrance of the London Brighton train line is very unusual.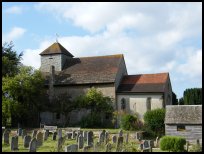 The village is very small and as such has few services, with the exception of the church.

The nearest main shopping center is at nearby Burgess Hill to the north of the village.
Clayton is shown as the red symbol on the map.

Nearby Villages
(click on symbol to see the village page)
| | | | | | |
| --- | --- | --- | --- | --- | --- |
| Village= | | Town= | | Recorded in Domesday= | |