Edenbridge in Kent lies on the B2026 between Hartfield and Westerham on the river Eden. The village grew up as the crossing point of the river, with the high street being paved by the Romans about 100AD. This provided a route for the wood and iron found in the Ashdown Forest to be taken to London.

The name appears to be from the bridge over the Eden, but after the Romans left a Saxon, Eadhelm became leader of the local people, and he built a bridge over the river which was unnamed at the time. So the village was named EadhelmBridge which was shortened to Edenbridge, from where the river name is derived.

The church is first mentioned in a document from 1125AD the Textus Roffensis but the stone building is likely to have been built by the Normans just after the Invasion in 1066 .

An old legend is that the first stone bridge across the river was built because two old ladies were unable to cross the river in a time of flooding, and a trust was set up to maintain the bridge.

The 1500's brought wealth to the town with the iron industry. The raw materials came from the surrounding areas. The small town built up, but suffered badly with the relocation of the iron industry to the midlands in the early 1800's.

The latest bridge was built in 1834, and provides a picturesque crossing of the river.

However in the middle 1800's the town started to regain its wealth when it became the crossing point for the north south and the east west railway lines, which made it a loading point for the locally produced farm goods, and the first commuters.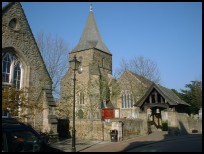 Edenbridge in Kent is an attractive small town with many black and white timbered buildings.

The bridge over the river has a small park next to it so you can sit and watch the water.

In the town, the Eden Valley Museum provides a great deal of local history, and it is also housed in a building from the 1400's.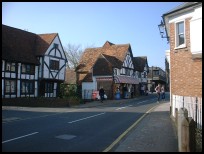 Edenbridge in Kent provides a wide range of shops which provides for the village, and also the smaller local villages.

The main bus and train services to London go through the village, and the B2026 provides access north to south, and to the M25 about 6 miles to the north west.
Edenbridge is shown as the red symbol on the map.

Nearby Villages
(click on symbol to see the village page)

| | | | | | |
| --- | --- | --- | --- | --- | --- |
| Village= | | Town= | | Recorded in Domesday= | |

Chiddingstone
(A perfect Tudor village)
3.66 miles
Chiddingstone Causeway
(Penshurst Station ??)
4.83 miles
Fordcombe
(Paper Mill and the Field Marshal)
6.36 miles
Hever
(Anne Boleyn and the Castle)
2.11 miles
Sevenoaks Weald
(Lower the tower by twenty feet)
6.20 miles
Speldhurst
(Nobleman captured at Agincourt)
7.43 miles