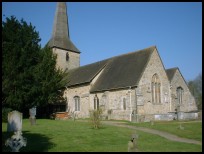 Hever in Kent lies off the beaten track between Penshurst and Edenbridge , its main claim to fame is Hever Castle The Textus Roffensis records that the church was consecrated between 1115 and 1125. The manor was owned by William de Hevre around 1200AD who started the church in arrangement with Combewell Priory. The first rector Canon le Neve was confirmed in 1225. The main stone construction of the church was started in 1292.

Hever is famous for its castle which was started in 1272 when Sir Stephen de Penchester was given permission by Edward I to convert the manor house into a castle. The gatehouse, outer walls and the moat were constructed soon after.

In 1462 the manor was bought by Sir Geoffrey Bullen, who had been Lord Mayor of London in 1459. The Bullen family progressed in society by marrying into the Howard and Sackville (see Withyham ) families . Sir William Bullen converted the castle into more grand living quarters, and about this time changed the family name from Bullen to Boleyn, a much more aristocratic name. The most famous occupant Anne Boleyn (see Ticehurst )was married to Henry VIII in 1533 and subsequently executed in May 1536. This was the death knoll to the family, and Sir Thomas, Anne's father died in 1538 and was buried in St Peters at Hever . As there were no other heirs, the King took over the castle, and gave it to Anne of Cleves until she died in 1557.

The castle became more and more run down, and in the 1700's the local Groombridge Gang of smugglers used the castle to store contraband .

In 1903 the castle was bought by William Waldorf Astor an American millionaire. He was made a naturalised Briton and was created Viscount Astor of Hever . He restored the building and created the magnificent gardens. The castle is now open to the public.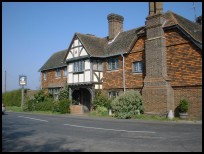 The high street although small is very attractive.

The castle is open to the public and is well worth visiting, as it has one of the few working portcullis in England. The gardens are magnificent another reason to visit.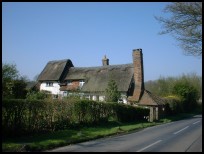 The village is quite small, but has a public house, the church and the castle.

The nearest town is Edenbridge about 3 miles to the west with its wide range of shops, and its train access to London.

The nearest large town is Royal Tunbridge Wells about 10 miles to the east provides an exceptional shopping centre and services.
Hever is shown as the red symbol on the map.

Nearby Villages
(click on symbol to see the village page)

| | | | | | |
| --- | --- | --- | --- | --- | --- |
| Village= | | Town= | | Recorded in Domesday= | |

Ashurst
(Miraculous Carving)
4.34 miles
Blackham
(Roughs and Prize Fighters)
3.79 miles
Chiddingstone
(A perfect Tudor village)
1.62 miles
Chiddingstone Causeway
(Penshurst Station ??)
2.97 miles
Edenbridge
(Roman Crossing to Victorian Bridge)
2.11 miles
Fordcombe
(Paper Mill and the Field Marshal)
4.37 miles
Langton Green
(Modern village and Old Quarry)
5.89 miles
Rusthall
(The Toad Rock)
6.19 miles
Sevenoaks Weald
(Lower the tower by twenty feet)
5.09 miles
Speldhurst
(Nobleman captured at Agincourt)
5.32 miles