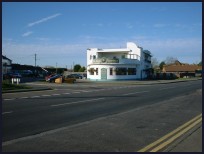 Greatstone in Kent lies on the coast of the Romney Marsh between Littlestone and Lydd on Sea . Its name comes from the size of pebbles found along the beach.

It is a modern village only being created in the early part of this century.

On the 16th July 1927, the Romney Hythe and Dymchurch Railway (RHDR) a narrow gauge railway was opened, initially it called at Greatstone on Sea , however the expected population boom of the village never happened and the station was finally scrapped in 1971.

The railway was built by Captain J. E. P. Howey and Count Louis Zborowski to serve the local population and tourist trade, it stretches for nearly 14 miles from Hythe through Dymchurch , St Marys Bay ,its base at New Romney ,Romney Sands and then to the fishermens cottages and lighthouses at Dungeness . It is still a major tourist attraction and well worth a visit. (Click here for the Official RHDR site) If you look behind the sea front there are a few odd concrete structures from the war which were used as sound location devices to attempt to detect the bombers used by the Luftwaffe in 1940. These were built by the War Department (Ministry of Defence) before the last war and are, in fact, aeroplane detecting parabolic sound mirrors. They were superceeded by the advent of Radar which proved superior. Another example of this type of device can be found at Lympne .

During the Normandy Landings in 1944 the area was used to ship fuel across the English Channel to the Mulberry Harbour in France . Some of the bungalows were requisitioned to hide the pumping stations for the fuel being pumped by PLUTO (PipeLine Under The Ocean) to France.

Greatstone is one of the first villages whose development was controlled by the 1940 Town Planning Act. Most of the properties are modern and show the boom in seaside resorts during the 1950's and 60's.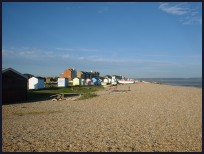 The view from the sea road provides beautiful vistas across the sea to Dungeness in the west and to Hythe in the east. The sands on beach at low tide spread out about 1/2 miles from the beach. To the east lies the Victorian edifices of Littlestone .

Behind the holiday camp lies the sound detectors, whic I still havn't reached.

The Romney Hythe and Dymchurch Railway used to stop here on the way from New Romney to Dymchurch , nowadays they pass close to the beach and are a very pretty sight in full steam.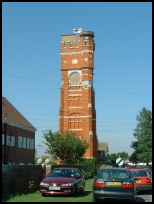 Greatstone in Kent has a wide selection of shops which provide for the local community and visitors.

New Romney about 1 mile inland provides more facilities for shoppers and tourists alike.

The nearest main line station is at Appledore about 8 miles to the north west.
Greatstone is shown as the red symbol on the map.

Nearby Villages
(click on symbol to see the village page)

| | | | | | |
| --- | --- | --- | --- | --- | --- |
| Village= | | Town= | | Recorded in Domesday= | |

Brenzett
(St Eanswyth a saxon princess)

5.82 miles
Brookland
(13th century wooden spire)
6.16 miles
Broomhill
(Swept away by the Storm)
6.80 miles
Dungeness
(Fishermen and Lighthouses)
2.92 miles
Ivychurch
(The burial ground on the Island)
4.82 miles
Littlestone
(The Genteel Resort)
1.59 miles
Lydd
(The Cathedral of the Marsh)
2.54 miles
Lydd on Sea
(Bungalows and Fishermen)
1.24 miles
New Romney
(Cinque Port and Storm)
1.93 miles
Old Romney
(Sheep and Wool Smuggling)
3.56 miles
St Mary in the Marsh
(Ancient Celts)
3.67 miles
St Marys Bay
(Holidays and Beaches)
3.36 miles