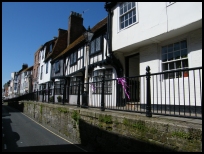 During Roman times a large number of bloomeries in the area produced iron which was exported to Europe from Hastings .

Hastings Old Town in East Sussex was settled in Saxon times, by an Anglo Saxon or less likely a Jutish warlord called Haesta probably before Aella the Saxon settled in 477. The original settlement was protected to the East by the Romney Marsh area the Pevensey Marshes to the west , and the great forest of Andredsweald to the north.

The settlement grew and in 771 King Offa of Mercia recorded the town of Hastings showing that it was an important place. The Burghal Hideage which is a list of the forts and defensive locations of Alfred the Great shows Hastings as one of the Burh's defending Wessex.

In 982 King Aethelstan recorded that a mint was producing coins again proving that Hastings was an important location.

In 1066 William of Normandy landed to the West of Hastings and built the castle on the West Hill in 1086, providing a defense for the Hastings Harbour .

The Cinque Ports first mentioned in a Royal Charter of 1155 originally consisted of the "Ports" of Hastings , New Romney , Hythe , Dover and Sandwich. The Cinque Ports were a major part of Hastings history until the founding of the Royal Navy in 1485 by King Henry VII , when the power that the town controlled was significantly diminished.

The Old town saw little change after until the 1850's when the trains arrived bringing tourists to the town. Now it is a very picturesque place to visit but remember to bring a camera.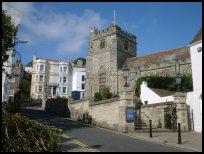 The whole of Hastings Old Town in East Sussex is steeped in history, and the buildings in this small area show many styles, so is well worth an hour or so exploring this ancient town.

George Street is now pedestrian only and runs from the new town, behind the seafront to the High Street.

The High street is very attractive with a high pavement and many side alleys to explore.

The prettiest area in our view is All Saints street that runs from All Saints church to the Hastings Harbour .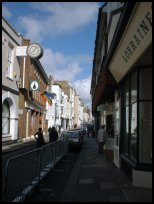 The Old town has many shops and places to eat, together with access to the West Hill and the East Cliff .
Hastings Old Town is shown as the red symbol on the map.

Nearby Villages
(click on symbol to see the village page)

| | | | | | |
| --- | --- | --- | --- | --- | --- |
| Village= | | Town= | | Recorded in Domesday= | |

Catsfield
(Iron, Railways and Clocks)

6.76 miles
Crowhurst
(Village devastated by the Normans)

4.40 miles
Fairlight
(Firehills and Views)

3.26 miles
Guestling
(Changing guards at Buckingham Palace)

3.59 miles
Hastings Bulverhythe
(Landing place of the citizens)
2.97 miles
Hastings East Cliff
(Beautiful Views and peaceful Walks)
1.26 miles
Hastings Ore
(Iron and the Turnpike)
1.16 miles
Hastings Sea Front
(Modern amusements,pier and promenade)
2.21 miles
St Leonards on Sea
(an Edwardian family's gentile resort)
1.70 miles
Pett
(End of the Royal Military Canal)
4.14 miles
Westfield
(Bonfire Boys under suspicion)

3.59 miles