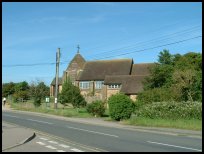 Old Winchelsea , originally known as Gwent Chesel Ie , could be found on an island between what is now known as Rye Harbour and Winchelsea Beach in East Sussex .

An extract of the Nothgyth Quest whose author David Slaughter proposes the following :- [There is a spoken remnant of history about Cissa the Saxon's family, which survived locally, relating that his son Winchel or his followers the Wincheling founded Winchelsea. The writer believes this remnant to be true and that the first settlement must have been established by Wine Cissing, the original form of the town's name having been 'Wines cesel ie' or 'Winchel ie' and that the present name of Winchelsea developed from this Old English form.] Winchelsea Beach is another modern resort similar to Greatstone in its age having been built up just before the 2nd World War to cater for the holidaymakers.

It consists of a row of modern buildings lying behind the sea defences on the coast road from Winchelsea to Fairlight. Holiday homes and camps litter the area, together with the usual seaside entertainments.

To its east lies the old fortification originally known as Winchelsea Castle and nowadays Camber Castle. This was built by Henry VIII in 1539, on a spit of land which stuck out into the sea, to defend the entrance to Rye and Winchelsea harbours. The castle was very nearly demolished in 1626 by Charles I as its upkeep was deemed unnessary due to the castle now lying 2 miles inland and away from the sea.

Today is is supported by English Heritage and is available to visit on foot.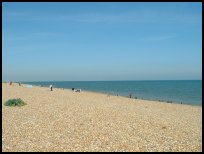 Winchelsea Beach in East Sussex has some good views. From the top of the sea wall look south east towards Camber and Dungeness which is visible on a warm summers day.

To the west lie the red Sandstone Cliffs at Fairlight which glow with the early morning sunlight. Inland on its promentory lies the town of Winchelsea which makes a beautiful view with its walls visible from the beach.

Camber Castle is well worth a visit if you are interested, but it may be easier to visit by parking at Rye Harbour and walking back.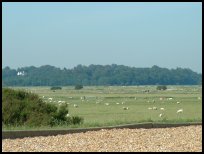 Winchelsea Beach in East Sussex has a range of seaside and holidaymaker services, within the village.

The nearest trains run from Wichelsea about 2 miles to the north, and the nearest major shopping centre is at Rye about 4 miles north east.
Winchelsea Beach is shown as the red symbol on the map.

Nearby Villages
(click on symbol to see the village page)

| | | | | | |
| --- | --- | --- | --- | --- | --- |
| Village= | | Town= | | Recorded in Domesday= | |

Brede
(Edward I inspects the Channel Fleet)
5.70 miles
Broad Oak Brede
(On the Crossroads)
5.96 miles
Broomhill
(Swept away by the Storm)
4.12 miles
Camber
(Sands and Holidays)
3.45 miles
East Guldeford
(Barn-like Church)
3.28 miles
Fairlight
(Firehills and Views)

3.93 miles
Guestling
(Changing guards at Buckingham Palace)

4.17 miles
Hastings East Cliff
(Beautiful Views and peaceful Walks)
5.84 miles
Hastings Ore
(Iron and the Turnpike)
5.99 miles
Icklesham
(Paul McCartney's Recording Studio)
2.27 miles
Old Winchelsea
(Abandoned after the Great Storm)
0.54 miles
Pett
(End of the Royal Military Canal)
3.01 miles
Playden
(Saltcote and fish)

4.10 miles
Rye
(On the Island)

2.39 miles
Rye Harbour
(Nature Reserve and unspoilt beaches)

2.27 miles
Udimore
(Angels move the Church)

3.69 miles
Westfield
(Bonfire Boys under suspicion)

6.62 miles
Winchelsea
(Inland Cinque Port !!)
0.85 miles