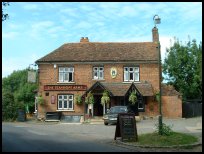 Brasted in Kent Place was built in the village by Robert Adams between 1784 - 1785 in the Palladian style for King George III's doctor John Turton . George III gave Turton a clock from Horse Guards parade which was installed in the clock turret at Brasted Place .

In 1840 Prince Louis of France stayed in Brasted Place before trying to return to France in an attempt to become Emperor Napoleon III of France.

He sailed in August of the same year into Boulogne with a small number of mercenaries. He was caught and sentenced to imprisonment in the fortress of Ham in the Department of Somme. In 1844, his uncle Joseph died, making Louis the direct heir apparent to the Bonaparte claim. He finally managed to escape to Southport, England in May 1846 by changing clothes with a mason working at the fortress.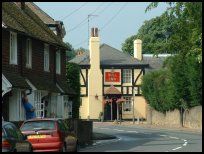 Some of the houses along the A25 are very pretty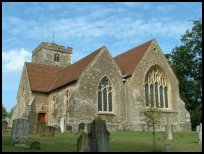 Brasted in Kent is a small village that straggles along the busy A25 in Kent. It has the normal small village services and buses.

The nearest train is found at Sevenoaks a few miles to the East.
Brasted is shown as the red symbol on the map.

Nearby Villages
(click on symbol to see the village page)

| | | | | | |
| --- | --- | --- | --- | --- | --- |
| Village= | | Town= | | Recorded in Domesday= | |

Sevenoaks Weald
(Lower the tower by twenty feet)
4.41 miles
Sundridge
(Last Peer of England to be hanged)

0.89 miles
Westerham
(James Wolfe captures Quebec)

1.68 miles