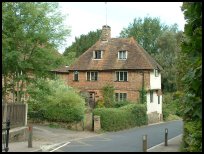 Sundridge in Kent is a small village that lies on the A25 between Sevenoaks and Westerham .

The Domesday book records that Sondresse was worth £18 and included three mills on the river Darent and a church. The manor was owned by Earl Godwin, father of King Harold who was killed in the Norman Invasion of 1066 and he in turn transferred the ownership to the monastry at Canterbury .

The main part of the church was constructed in the early 1200's with some modifications in the 1400's and 1800's. The original manor house can be found near the church as Sundridge Place.

In 1554 Sir Henry Isly was executed at Sevenoaks for his part in Sir Thomas Wyatt's rebellion against the marriage of Queen Mary and Philip of Spain. A brass of Sir Thomas Isly in full armour can be found in the church, he was the father of Sir Henry. Because of the rebellion, the family fell from favour, and sold the land to pay of their debts to the crown.

Coombe Bank, a mansion to the north of the village, was bought in 1720 by John Campbell, who became the Duke of Argyll in 1761. His son Lord Ferrers was the last peer of England to be hanged for the murder of a servant in 1760.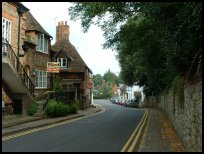 Our Views section is under preparation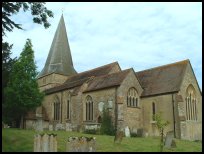 Sundridge in Kent is a small village
Sundridge is shown as the red symbol on the map.

Nearby Villages
(click on symbol to see the village page)

| | | | | | |
| --- | --- | --- | --- | --- | --- |
| Village= | | Town= | | Recorded in Domesday= | |

Brasted
(Doctor to King George III)

0.89 miles
Sevenoaks Weald
(Lower the tower by twenty feet)
3.83 miles
Westerham
(James Wolfe captures Quebec)

2.56 miles