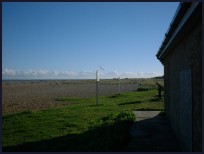 Lydd On Sea in Kent is a modern village mostly built after the 2nd World War . It lies on the coast road on the Romney Marsh between Greatstone and Dungeness. It is really an extension of Greatstone and consists mostly of modern bungalows.

On the 16th July 1927, the Romney Hythe and Dymchurch Railway (RHDR) a narrow gauge railway was opened, the trains pass through Lydd on Sea on their way between New Romney and Dungeness .

The railway was built by Captain J. E. P. Howey and Count Louis Zborowski to serve the local population and tourist trade, it stretches for nearly 14 miles from Hythe through Dymchurch , St Marys Bay ,its base at New Romney ,Romney Sands and then to the fishermens cottages and lighthouses at Dungeness . It is still a major tourist attraction and well worth a visit. (Click here for the Official RHDR site) The village lies on the inland edge of the coast road and provides a seaside retreat for those who would like to live on the beach, fishermen or those who just like the coast. The beach at high tide is shingle, but as the tide goes out so a shelf of sand is uncovered which goes out over 1/2 mile.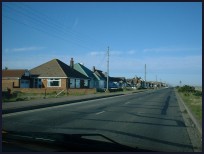 The view from the sea road provides beautiful vistas across the sea to Dungeness in the west and to Hythe and the White Cliffs at Folkestone in the east. The sands on beach at low tide spread out about 1/2 miles from the beach. The Romney Hythe and Dymchurch Railway used to stop here on the way from New Romney to Dymchurch , nowadays they pass close to the beach and are a very pretty sight in full steam.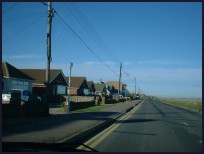 Lydd On Sea in Kent has no services, and depends on those in Greatstone to provide the requirements. New Romney about 2 miles north east provides more facilities for shoppers and tourists alike.

The nearest main line station is at Appledore about 8 miles to the north.
Lydd On Sea is shown as the red symbol on the map.

Nearby Villages
(click on symbol to see the village page)

| | | | | | |
| --- | --- | --- | --- | --- | --- |
| Village= | | Town= | | Recorded in Domesday= | |

Brookland
(13th century wooden spire)
6.97 miles
Broomhill
(Swept away by the Storm)
6.78 miles
Dungeness
(Fishermen and Lighthouses)
1.71 miles
Greatstone
(Parabolic Sound Detectors and PLUTO)
1.24 miles
Littlestone
(The Genteel Resort)
2.82 miles
Lydd
(The Cathedral of the Marsh)
2.73 miles
New Romney
(Cinque Port and Storm)
3.12 miles
Old Romney
(Sheep and Wool Smuggling)
4.53 miles