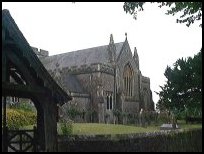 Boughton Monchelsea in Kent lies on a quiet road about 1 mile to the east of Linton , it lies on a high ridge overlooking the Weald .

The village originally owned by the Godwin family was given to the de Montchensie family who came from Mont Casini in Normandy by William the Conqueror .

It has been suggested that the churches along the ridge, those of Linton , Boughton Monchelsea , Chart Sutton and Sutton Valence were built on the site of ancient Roman temples lying along the ridge road.

The village is famous for its quarry, which has provided materials since Roman times when some of the stone was used to build the walls of London . It is believed that Henry V ordered 7000 stone cannon balls from the quarry for the wars in France .

The church is a very old building which dates back to the late 11th century, some of the Norman arch can still be seen in the tower. The lychgate one of the oldest in the country was built in 1470.

Boughton Place was built in the Elizabethan period, and was owned by Robert Rudston who lost it to the crown for his part in the Kentish Rebellion of 1450 .

The bit about Robert Rudston is incorrect. He acquired the estate in 1551 thanks to his connections to (and several years in the service of) Sir Robert Wyatt. He lost it for a while for his part in the rebellion of 1554 against Queen Mary's marriage to Philip of Spain, and nearly lost his head in the Tower of London, but his influential friends at Court secured him a reprieve and he regained his house and lands (after paying a very large fine).
Details supplied by Peter Freeman of the University of Leeds It would seem that the village saw a miracle in the 1800's as a headstone in the churchyard records that 'Sarah Tomkins who having been blind for 12 years had her sight restored on Ocule Sunday 19th March 1865'. Ocule Sunday is so named because Psalm 25 'Mine eyes are ever to the Lord' is applied to this Sunday.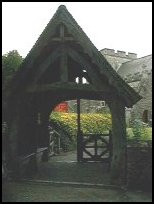 The old village centre which lies about 1 mile to the south of the main road, is very pretty, and has very nice views across the Weald.

The newer part of the village, lies about 1 mile north of the main road, and its green( Boughton Green ) is very attractive.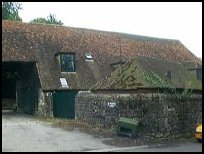 The area by the church has no services, but the green has a few shops.

The nearest main shopping area is about 3 miles north at Maidstone .

The nearest trains can also be found at Maidstone , with a two stations to choose from.

The nearest busses are the Maidstone to Hawkhurst service and runs from Linton about 2 miles to the west.
Boughton Monchelsea is shown as the red symbol on the map.

Nearby Villages
(click on symbol to see the village page)

| | | | | | |
| --- | --- | --- | --- | --- | --- |
| Village= | | Town= | | Recorded in Domesday= | |

Coxheath
(Soldiers and Duels)
1.64 miles
East Peckham
(Centre of the Hop Industry)
6.51 miles
Linton
(Cavalier loses House)

1.14 miles
Mereworth
(The First Victoria Cross)

6.83 miles
Paddock Wood
(Railway brings prosperity)
7.36 miles
Sutton Valence
(seized from Simon de Montfort)
3.07 miles
Yalding
(longest medieval bridge in Kent)

4.49 miles