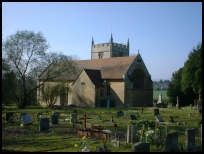 Chiddingstone Causeway in Kent lies between Leigh and Edenbridge on the B2027 . The village is a relatively modern one which has sprung up around Penshurst station, which was built to provide rail access to Penshurst Place. The railways in the area were built during the 1850's to provide easy access to London, Tonbridge and Sevenoaks.

Because of the trains providing access to Penshurst Place, a community grew up to service the famous and wealthy visitors attending. Initially with transport, then small businesses sprung up, and shipping firms to transport farm goods to the towns.

In the 1860's the firm of Duke and Sons started to make cricket bats and balls for Penshurst Place, then due to the proximity of the railway to sell further afield.

Because of the population increases a church was built of corrugated iron, the congregations increased until a stone church was erected and dedicated in 1898. The church was built within the parish of Chiddingstone , hence the village name is derived from Chiddingstone and not Penshurst which is the name of the station which is located next to the church. Nowadays the village is mostly housing, and the local businesses are small and rural.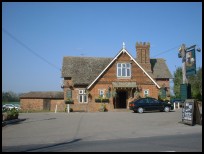 Chiddingstone Causeway in Kent lies in a pleasant rural location, the hills all around are very attractive.

The prettiest area is on the Penshurst road with some nice rural views.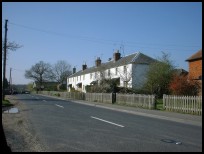 Chiddingstone Causeway in Kent has few local services, the church providing spiritual relief.

The station in the village provides access east to Tonbridge and west to Edenbridge.

The nearest local shopping centre lies at Edenbridge about 5 miles west, or the major centre of Tonbridge about three miles to the east.
Chiddingstone Causeway is shown as the red symbol on the map.

Nearby Villages
(click on symbol to see the village page)

| | | | | | |
| --- | --- | --- | --- | --- | --- |
| Village= | | Town= | | Recorded in Domesday= | |

Chiddingstone
(A perfect Tudor village)
1.44 miles
Edenbridge
(Roman Crossing to Victorian Bridge)
4.83 miles
Fordcombe
(Paper Mill and the Field Marshal)
3.94 miles
Hever
(Anne Boleyn and the Castle)
2.97 miles
Pembury
(The ghost of Hawkwell)
7.51 miles
Sevenoaks Weald
(Lower the tower by twenty feet)
2.97 miles
Speldhurst
(Nobleman captured at Agincourt)
3.77 miles