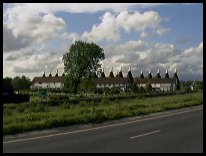 East Peckham in Kent is a village 12 miles north east of Royal Tunbridge Wells off the B2106, standing on the banks of the the Medway.

The church of St Michael stands well away from the village, about 2 miles towards Mereworth . This old church was made redundant by the 1830's after the community surrounding it moved away. It still remained in use until 1972 when it finally closed. The new parish church of the Holy Trinity was built in 1840 within the village.

The village of East Peckham has grown from the amalgamation of 9 separate hamlets, during the early 1900's. The main cause of this amalgamation was the hop industry, and the dredging of the river Medway from Maidstone to Tonbridge . This brought with it the means to transport the hops outside the area.

It was once one of the centres of Wealden hop growing. The Whitbread hop farm at nearby Beltring was the last stronghold of large-scale, good old fashioned hand picking of hops in Kent.

It was mechanised in 1969, and its massed oast kilns are the largest group of its kind in the world. It is now open to the public as a museum and leisure centre.

During the 18th and 19th centuries, East Peckham was one of the reception areas for London foundlings. The children were sent here from Thomas Coram's Foundling Hospital, and they were nursed until they were old enough to be sent back to London.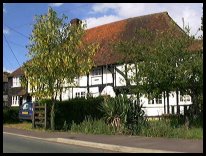 East Peckham in Kent is surrounded by the garden of Kent, and has many orchards and hop gardens. The area is rural, but is quite accessible with the improvement of the road from the M20 to the Beltring Hop Farm.

The Hop farm is on the Paddock Wood side of the village, and is very attractive, with a wide range of attractions.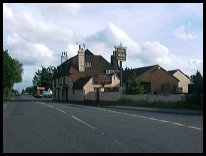 East Peckham in Kent has quite a few shops, and an Industrial Park with vehicle servicing and other businesses.

The nearest shopping centre is Maidstone , about 8 miles to the east.

The nearest trains are at Yalding about 1 1/2 miles away, but the best service to London is from Paddock Wood about 3 miles south west.
East Peckham is shown as the red symbol on the map.

Nearby Villages
(click on symbol to see the village page)

| | | | | | |
| --- | --- | --- | --- | --- | --- |
| Village= | | Town= | | Recorded in Domesday= | |

Boughton Monchelsea
(Miraculous vision)
6.51 miles
Coxheath
(Soldiers and Duels)
4.92 miles
Hadlow
(Mays Folly - 150ft tower)

2.35 miles
Linton
(Cavalier loses House)

5.47 miles
Marden
(Broadcloth and Agriculture)

5.29 miles
Mereworth
(The First Victoria Cross)

3.22 miles
Paddock Wood
(Railway brings prosperity)
2.16 miles
Tudeley and Capel
(Iron Industry and Hop Pickers)
3.08 miles
Yalding
(longest medieval bridge in Kent)

2.07 miles