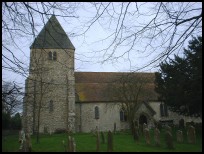 Mersham in Kent lies just south of the A20/M20 between Sevington and Smeeth . The village has been a farming community throughout its life, its church stems from Norman times when the tower was built.

The village has been the home of the Knatchbull family since the times of Henry VIII . The family were quite at home with politics as can be seen following. In 1638 Sir Norton Knatchbull founded Ashford Grammar School , to which pupils were not admitted until they could read the bible in English, he was also the M.P. for Romney.

In the early 1800's Sir Edward Knatchbull served under Walpole in the Whig government. In 1830 another Sir Edward became M.P. for Romney and served under Peel in his government of 1841. Nowadays Mersham lies on the route of the Eurostar train service from London to Paris and Brussels .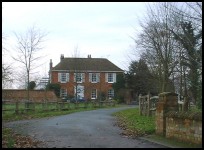 Mersham in Kent lies on the south facing side of the hill, and has some nice views south.

At the bottom of the vally lies a very pretty bridge over the East Stour , next to the water meadows, and an old mill.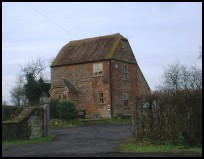 Mersham in Kent has a few local services, but these are declining as Ashford moves nearer the village.

The main shopping centre is at Ashford about 4 miles east, where there is also the main London to Dover train service, and the Eurostar service to Paris and Brussels .
Mersham is shown as the red symbol on the map.

Nearby Villages
(click on symbol to see the village page)

| | | | | | |
| --- | --- | --- | --- | --- | --- |
| Village= | | Town= | | Recorded in Domesday= | |

Aldington
(The Aldington Gang)

1.94 miles
Bilsington
(The Priory and Obelisk)

3.31 miles
Bonnington
(Saint Rumwold the child saint)

2.78 miles
Hamstreet and Orlestone
(The Start of the Ordnance Survey)
4.76 miles
Lympne
(From Roman Castle to Tigers)

5.06 miles
Ruckinge
(Smuggling and Traction Engines)

4.21 miles
Sellindge
(Oliver Cromwells Horse)

3.43 miles
Sevington
(Saxons and Dual Carriageway)

1.26 miles
Smeeth
(The Scott Family)
1.18 miles