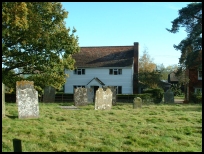 Tudeley is the oldest of the two settlements being mentioned in the Domesday Book as Tivedele, and is most likely to be an Anglo Saxon settlement or possibly Roman as Bloomeries have been found nearby. Capel is a later settlement and is named after the Chapel that was built there.

The earliest mention of the iron industry at Tudeley is from the reign of Edward III when in 1330 194 iron blooms were processed. This was finished by the Black Death killing many people so that in 1363 it was reported that there were not enough workers due to the pestilence. The Wealden iron industry was present in the area with Postern Forge to the west of Capel being dated to the 1550's. The furnace processed blooms from the furnace ar Riverhall near Wadhurst into implements and firebacks.

The Tonbridge to Ashford train line was opened in 1842 originally with a station planned for Moncktons Arch in the parish, but the landowner objected and the station was opened at Maidstone Road, nowadays it is better known as Paddock Wood . The navvies who built this railway were billetted at Five Oak Green in the parish.

Once the railway had been opened, the hop industry flourished, with hops being picked in August and shipped by rail to the nearest breweries probably in Maidstone or Hadlow .

The first 'Hoppers' Hop pickers came down to the area by horse and cart, but by the 1870 so much land was put over to hops that labour had to be brought into the area by rail from London, so creating the Autumn hop picking holidays for the population in the East End of London, this continued until the late 1960's when mechanisation removed the need for the Hop Pickers .

In the area are a great number of oast houses which were used to dry the hops before sending to the breweries.

Tudeley church has the honour of having 12 windows designed by Marc Chagall installed between 1967 - 1985 , as a memorial to Sarah d'Avigdor-Goldsmid who died aged 21 in a sailing accident off Rye.

In 2003 the BBC with Rolf Harris came to see the stained glass windows by Marc Chagall in Tudeley church for the series 'Rolf on Art'. Rolf designed a window based on Chagall's work and it was installed 30th May 2003 in the Goldsmid Village Hall .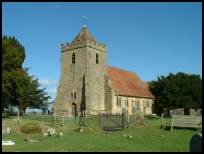 The area is mostly farmland, with some good views across the Medway river toward Hadlow .

Marc Chagall's windows in Tudeley church are well worth visiting.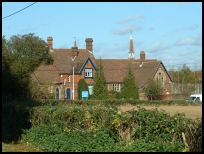 The area has a few local amenities, schools, public houses and the churches.

For any major service or the main line to London you need to travel a couple of miles to Tonbridge .
Tudeley And Capel is shown as the red symbol on the map.

Nearby Villages
(click on symbol to see the village page)

| | | | | | |
| --- | --- | --- | --- | --- | --- |
| Village= | | Town= | | Recorded in Domesday= | |

Brenchley
(A beautiful Kent village)
3.37 miles
East Peckham
(Centre of the Hop Industry)
3.08 miles
Hadlow
(Mays Folly - 150ft tower)

3.01 miles
Horsmonden
(The largest Wealden Iron Works)
4.92 miles
Langton Green
(Modern village and Old Quarry)
6.39 miles
Marden
(Broadcloth and Agriculture)

6.67 miles
Matfield
(Largest Village Green in Kent)
2.54 miles
Paddock Wood
(Railway brings prosperity)
2.04 miles
Pembury
(The ghost of Hawkwell)
2.29 miles
Rusthall
(The Toad Rock)
5.62 miles
Speldhurst
(Nobleman captured at Agincourt)
5.55 miles
Yalding
(longest medieval bridge in Kent)

5.04 miles