Burmarsh in Kent is a very small marshland village which lies just inland from the A259 at Dymchurch between the coast and the hills at Lympne . During Roman times the area was used to provide salt for the Empire.

The manor of Burmarsh was given to St Augustine's Priory at Canterbury before the Norman Invasion in 1066.

The village has for centuries been involved with shepherding and wool and of course smuggling , being only a mile or two inland from the coast.

On the 16th July 1927, the Romney Hythe and Dymchurch Railway (RHDR) a narrow gauge railway was opened, a stop at Burmarsh Road was planned to be a full station. It had two platforms , a ticket office and waiting room and signals. It was rarely used and it was demolished in 1948. It became just a halt but even this closed in 1949.

The railway was built by Captain J. E. P. Howey and Count Louis Zborowski to serve the local population and tourist trade, it stretches for nearly 14 miles from Hythe through Dymchurch , St Marys Bay ,its base at New Romney ,Romney Sands and then to the fishermens cottages and lighthouses at Dungeness . It is still a major tourist attraction and well worth a visit. (Click here for the Official RHDR site) All Saints at Burmarsh is one of those churches supported by the Romney Marsh Historic Churches Trust .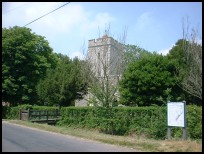 Burmarsh in Kent lies in one of the flattest and most deserted parts of Southern England, this provides safe push bike riding through the Romney Marsh .

All through the area are drainage dykes , small bridges , wildlife and peace and quiet, a nice place to be on warm Summer days.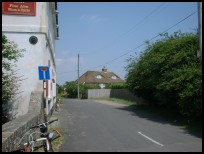 Burmarsh in Kent only has a public house and the church for its local services.

The nearest services are at nearby Dymchurch , with more shopping at Hythe and Folkestone further to the east.

The nearest trains are the RH&DR narrow gauge railway at Dymchurch .
Burmarsh is shown as the red symbol on the map.

Nearby Villages
(click on symbol to see the village page)

| | | | | | |
| --- | --- | --- | --- | --- | --- |
| Village= | | Town= | | Recorded in Domesday= | |

Aldington
(The Aldington Gang)

3.99 miles
Bilsington
(The Priory and Obelisk)

4.37 miles
Bonnington
(Saint Rumwold the child saint)

3.77 miles
Brenzett
(St Eanswyth a saxon princess)

6.92 miles
Dymchurch
(The Romans and the sea wall)
1.26 miles
Hamstreet and Orlestone
(The Start of the Ordnance Survey)
7.03 miles
Ivychurch
(The burial ground on the Island)
5.47 miles
Lympne
(From Roman Castle to Tigers)

2.23 miles
Newchurch
(The Church Tower with a kink)
3.04 miles
Old Romney
(Sheep and Wool Smuggling)
6.07 miles
Ruckinge
(Smuggling and Traction Engines)

5.08 miles
Sellindge
(Oliver Cromwells Horse)

4.01 miles
Snave
(the Remote church)
5.81 miles
St Mary in the Marsh
(Ancient Celts)
3.40 miles
St Marys Bay
(Holidays and Beaches)
2.85 miles