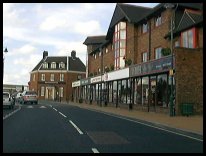 Paddock Wood in Kent lies in the Medway valley, on the fertile weald, between Maidstone about 10 miles north east and Tunbridge Wells about 6 miles to the south west.

Its fortunes have grown up from the railway line that was built during the mid 1800's, which provided transport to the Towns and Cities for the local produce. Prior to the railway, the goods were shipped from Yalding and East Peckham by barge down the Medway to the sea.

The town is now the centre for the distribution of fruit and vegetables in the area to and from europe, with its vast air conditioned warehousing and distribution facilities.

It is also a commuter town, with much of its population travelling daily by train to the City of London to work.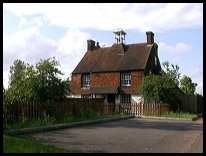 To the south of the village are the hills rising to Brenchley .

In the far distance are the hills near East Peckhamn , and all around is the attractive farmland of the Weald , with its hop gardens and many Oast houses .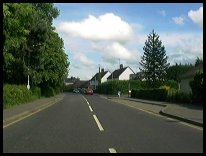 Paddock Wood in Kent is the centre of the villages in this part of the Weald, and has a wide range of shops and facilities.

The main line train service from Dover to London passes through the village, providing a quick and frequent service to London.

Busses pass throught the village from Royal Tunbridge Wells to Maidstone .
Paddock Wood is shown as the red symbol on the map.

Nearby Villages
(click on symbol to see the village page)

| | | | | | |
| --- | --- | --- | --- | --- | --- |
| Village= | | Town= | | Recorded in Domesday= | |

Boughton Monchelsea
(Miraculous vision)
7.36 miles
Brenchley
(A beautiful Kent village)
2.34 miles
Coxheath
(Soldiers and Duels)
5.96 miles
East Peckham
(Centre of the Hop Industry)
2.16 miles
Hadlow
(Mays Folly - 150ft tower)

3.62 miles
Horsmonden
(The largest Wealden Iron Works)
3.54 miles
Linton
(Cavalier loses House)

6.22 miles
Marden
(Broadcloth and Agriculture)

4.64 miles
Matfield
(Largest Village Green in Kent)
2.43 miles
Pembury
(The ghost of Hawkwell)
3.39 miles
Rusthall
(The Toad Rock)
7.46 miles
Tudeley and Capel
(Iron Industry and Hop Pickers)
2.04 miles
Yalding
(longest medieval bridge in Kent)

3.54 miles