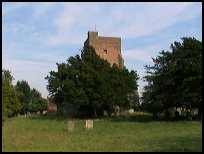 Standing on a ridge overlooking the Romney Marsh is the village of Warehorne in Kent 9 miles east of Tenterden , off the B2067.

The village is first mentioned in a charter of the Saxon King Egbert in 820 AD, where it is called Werehornas. The name has been explained as 'the place on the bend by the weir'. Presumably on the ancient course of the river Lymne, the old name for the Rother.

The Domesday book states that there was a church in Warehorne , but the earliest part of the existing building dates from 1200 AD. The early English nave was completed by 1450 - 1500 AD.

Warehorne is a good place from which to explore the unusual landscape of stunted trees, broad dikes, drainage ditches and marshland reedbeds.

One good way to do this is to follow the Royal Military Canal to Appledore . This particular stretch of the Canal is Owned by the National Trust.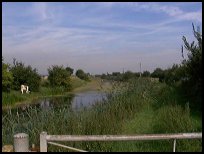 The Saxon Shoreline walk goes through the village, and through the churchyard.

The view south west from the churchyard is very pretty.

If you travel down to the Royal Military Canal , there are numerous birds including swans and many others to see. Fishing in the military canal is available, but you need to be a member of the local fishing clubs.

A walk down the Military Canal walk is very peaceful, and allows you to see all sorts of animals and birds in the reeds.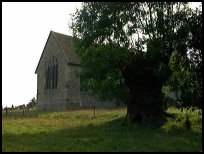 The village of Warehorne in Kent has small village services.

The main large shopping centre is in Ashford with its large number of shops, and Tenterden for small town shopping. The nearest trains also run from Ashford , with the main line to London passing through, together with the Ashford Terminal of Eurostar.
Warehorne is shown as the red symbol on the map.

Nearby Villages
(click on symbol to see the village page)

| | | | | | |
| --- | --- | --- | --- | --- | --- |
| Village= | | Town= | | Recorded in Domesday= | |

Aldington
(The Aldington Gang)

5.18 miles
Appledore
(Danes invade England)

2.83 miles
Bilsington
(The Priory and Obelisk)

3.33 miles
Bonnington
(Saint Rumwold the child saint)

4.32 miles
Brenzett
(St Eanswyth a saxon princess)

3.40 miles
Fairfield
(The Isolated Church)
4.07 miles
Hamstreet and Orlestone
(The Start of the Ordnance Survey)
1.38 miles
Ivychurch
(The burial ground on the Island)
3.82 miles
Kenardington
(Danes destroy Saxon Fort)
1.18 miles
Newchurch
(The Church Tower with a kink)
4.16 miles
Ruckinge
(Smuggling and Traction Engines)

2.24 miles
Smallhythe
(The Ellen Terry Museum)
6.24 miles
Snargate
(Sluice Gates made by Royal Order)
2.50 miles
Snave
(the Remote church)
2.13 miles
St Mary in the Marsh
(Ancient Celts)
5.60 miles
St Marys Bay
(Holidays and Beaches)
7.03 miles
Stone in Oxney
(Roman stone altar)
4.33 miles
Tenterden
(Centre of the Broadcloth industry)
6.57 miles
Wittersham
(Park your Airship here ?)
6.75 miles
Woodchurch
(Dragoons capture Smugglers)
2.91 miles